I am doing the ride for heart again, for the ninth time. I began participating in 2006 in honour of
Kiran van Rijn
, my friend and fellow student at the IHPSTS, who died at the age of 29 of a heart attack, September 21st, 2005.
I first heard of the ride for heart after someone in my circle suggested it as an appropriate way to honour Kiran. It also served as a way to challenge myself and see what I could do. I only really started biking a great deal in my last summer of high school and while I had used the bicycle to get around in undergrad and through grad school to that point, I still felt inexperienced. Even after nine years doing 50km in a few hours is still pushing myself, but I learned a bit about bike ergonomics and technique, and built up some endurance and skill so it is not as painful as it once was.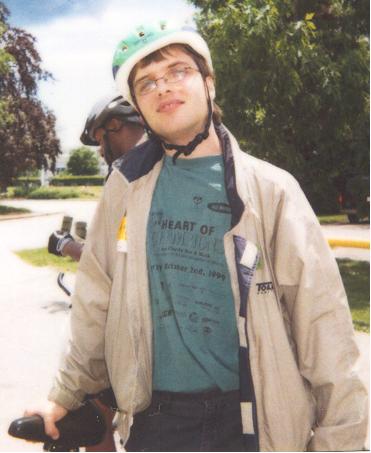 I've also been fortunate to find a group of friends who do this every year which makes it a lot more fun. Even though I can not often keep pace with them, it is great to meet up with them before the event and have lunch with them after.
I am not the most ambitious fundraiser, but I try to raise double the minimum. This week (May 5-11) there is the opportunity for on-line donations to be matched by Ride sponsor The Printing House.
So if you are interested check out my donation page
here